Make HIV History, Passing MONA and Ending Stigma – October 21, 3:00 pm CST
Posted on
October 13th, 2020
10/13/20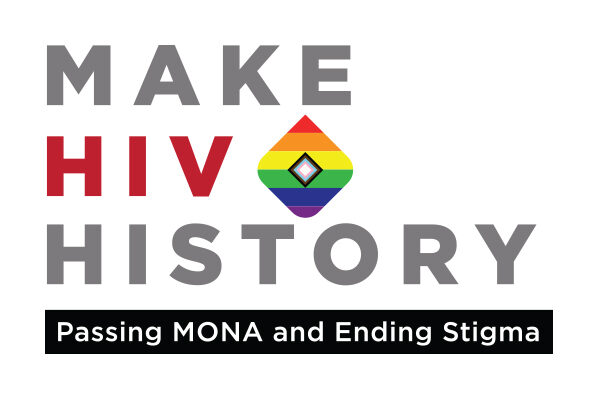 Thank you for joining us to Make HIV History.
Sorry if you missed this event.
The video recap of the Make HIV History, Passing MONA and Ending Stigma event is available for you to watch:
Access the Vivent Health press release covering this event: Missouri Elected Officials, Advocates Discuss Anti-Stigma Agenda for Next Missouri State Legislative Session Vivent Health brings together key leaders to address ending stigma
---
Vivent Health and our partners invite you to join us on this journey to make HIV history. Use your voices to lift up people living with HIV and ensure that access to health care and prevention is available to everyone who needs it, regardless of where they live, who they love, or their race, gender or sexual orientation.
Stigma is one of the biggest barriers to ending HIV as an epidemic and ensuring everyone can fully participate in our community. Join us for a conversation with Missouri community, political, and advocacy leaders from across the Show Me state.
On October 21, at 3:00 pm Central, join Vivent Health as we host:
Michael Sam, NCAA All-American Football Player, NFL Free Agent, & LGBT Athlete. Michael Sam encourages you to boldly and courageously pursue your dreams and define your success with his impassioned personal story of resilience over life's challenges. A University of Missouri football star primed for an early round pick in the 2014 NFL draft, Michael's talents on the field were nearly sidelined when he came out as gay during an ESPN interview. While his revelation sent shockwaves through the sports world and resulted in a last round pick by the St. Louis Rams, Michael emerged as a powerful and prominent icon for inclusion, a pioneer for the LGBTQ community, and an exemplar of the resilience and tenacity of the human spirit. Among his many career accolades, Michael was awarded ESPN's Arthur Ashe Courage Award at the 2014 ESPY's. He is currently an NFL free agent. Revered for his unwavering courage, graciousness and fortitude, Michael inspires with his personal journey of triumph over intense adversity. Authentic and heartfelt on the stage, his candor empowers audiences to overcome their own impediments to self-truth, love and acceptance.
---
Featuring panelists:
Mike Gifford is the President and CEO of Vivent Health where he has been a leading force in the fight against AIDS across the country for more than 25 years. Under his leadership, Vivent Health is now one of the nation's leading HIV prevention, care and treatment providers with locations in Colorado, Missouri, Texas and Wisconsin. Mike led the transformation of Vivent Health from social service agency into an interdisciplinary health system providing care for more than 10,000 people affected by HIV.
---
Representative Mike Stephens, a Republican, is a graduate of Southwest Baptist University and the University of Missouri-Kansas City School of Pharmacy. He opened Stephens Pharmacy in Bolivar in 1975; being in business for 40 years and working with families from all backgrounds gives him a valuable perspective to identify needs and make decisions to improve situations, not complicate them. As an active member and past president of the Bolivar Rotary Club, he strongly believes in civic service. He serves as Elder for the First Christian Church in Bolivar and was president of the Missouri Pharmacy Association. He is honored to be working as a State Representative in the Missouri House of Representatives. Rep. Stephens is an ardent supporter for MONA in previous sessions.
---
Representative Greg Razer, a Democrat, represents parts of Jackson County (District 25) in the Missouri House of Representatives. He was elected to his first two-year term in November 2016 and re-elected to a second two-year term in November 2018. Rep. Razer is now the Democratic Candidate for Senate District 7 in 2020. Prior to his legislative duties, Rep. Razer was the Deputy Regional Director for U.S. Senator Claire McCaskill from 2008-2016. Rep. Razer graduated from Cooter High School (Cooter, MO) in 1996. He received his bachelor's degree in history from the University of Missouri-Columbia in 2000. Rep. Razer was born in Blytheville, AR and has made his home in Kansas City since December 2001. Rep. Razer is an ardent supporter for MONA in previous sessions.
---
Stephen Eisele is executive director at PROMO, Missouri's LGBTQ advocacy nonprofit. He brings professional and lived experiences to his role and understands the importance of intersectional work and how disparities in health care resources impact communities. He worked at Community Catalyst where he supported and defended Medicaid across 12 states and aided health care policy at the federal, state and local levels. Stephen has robust understanding of the political process and the challenges of supporting LGBTQ rights in Missouri. He understands the severity of attacks on the LGBTQ community and is eager to lead the PROMO team to prevent passage of these and other discriminatory bills in the future.
---
Special appearances by:
Christa Lou Cunningham is the current President of Pride St. Louis, and is the first trans person to hold an executive position for Pride. Christa has finally embraced in calling St. Louis her home after 11 years, with the recent acquired taste of ranch dressing only a few months ago. A historic home aficionado, she has rolled up her sleeves and restored many homes and buildings as an occupational hazard as a real estate broker in New Jersey. Christa has been serving the community as a certified homeownership counselor for local non-profit housing organizations and also for local financial institutions in helping people obtain their goals of homeownership.
---
Ongina is the stage name of Ryan Ong Palao, an American drag performer and HIV activist who came to international attention on the first season of RuPaul's Drag Race and the fifth season of RuPaul's Drag Race All Stars. She was one of the first reality TV stars to come out as HIV-positive.